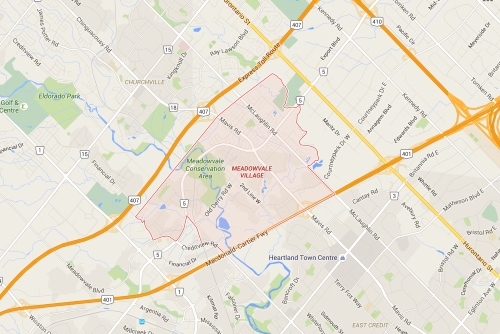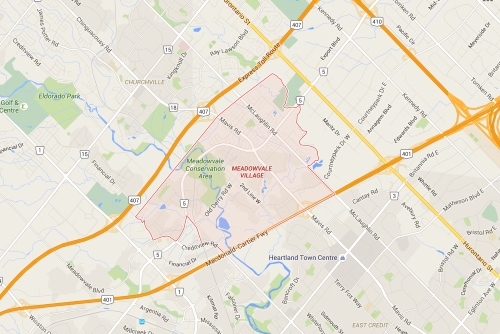 Meadowvale Mississauga
Home to over 41,000 people, this central community has become a popular choice for families, professionals, and commuters alike.
What is the Neighbourhood Like?

The neighbourhood of Meadowvale is a central neighbourhood in the city of Mississauga. Close to public transit, the Mississauga GO, and major streets and highways the community has become a popular area for those looking to commute to work. Like much of the city, the community of Meadowvale is a multi-cultural area, with some of the most dominant ethnic backgrounds including: East Indian, German, Irish, Polish, English, French, Ukrainian, and Pakistani.
The average household after-tax (net ) income is approximately $37,000. Some of the most popular fields of industry that residents of Meadowvale work in include: Construction, Education, Healthcare, Manufacturing, Wholesale Trade, and Retail.
What are the Houses Like?
Apartment Style Condominiums
These Units Start Around $300,0000

The apartment style condominiums are sleek, modern, and filled with natural light. These units have high ceilings, and are relatively new builds meaning that most provide residents with energy efficient windows, and up-to-date finishes and fixtures. Close to the many amenities that the community of Meadowvale has to offer, the homes for sale in Meadowvale don't sit on the market for long.
Townhouses
These Houses Start Around $500,000 – $650,000

These houses come in a variety of styles, many with 1-2 car garages, and 2-4 bedrooms. Generally they are multi-level, and have lots of windows, allowing lots of natural light to flow through. These houses sit on smaller lots, however, they do provide room to play and grow, and also sell for an affordable price, making them a popular choice for young families.
Detached Family Homes
These Houses Start Around $700,000 – $1,300,000 and Semi Detached from $550,000 to $650,000

The detached family homes in the Meadowvale area vary in style and size, and therefore vary in price as well. While they start around $450,000 they go up quickly and can sell for over $1 million dollars. These houses generally sit on good size lots, and provide residents with plenty of room to play, entertain, and grow. Many also sit on quiet treelined streets, and are located close to schools, parks, and recreational centers.
What are the Schools Like?
The schools in Meadowvale are well known for not only their excellent academics, but also the great extra-curricular activities that they offer their students. Some of the most well known schools in this family oriented community include: Meadowvale Village Public School, Meadowvale Secondary School, David Leeder Middle School, and Saint Barbara Elementary School.
SEARCH MISSISSAUGA MEADOWVALE HOMES FOR SALE (click here)
Other Mississauga Neighbourhood Reviews
Rathwood Neighbourhood Review and Home Prices
East Credit Neighbourhood Review and Home Prices
Port Credit Neighbourhood Review and Home Prices
Erindale Neighbourhood Review and Home Prices
Mississauga City Centre Neighbourhood Review and Home Prices
Applewood Neighbourhood Review and Home Prices
Creditview Neighbourhood Review and Home Prices
Lorne Park Neighbourhood Review and Home Prices
Lisgar Neighbourhood Review and Home Prices
Mineola Neighbourhood Review and Home Prices
Lakeview Neighbourhood Review and Home Prices