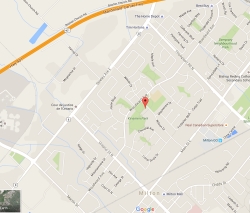 Dorset Park Milton Neighbourhood Review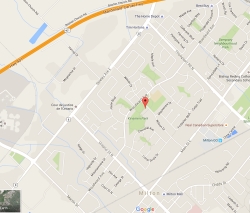 Dorset Park Milton neighbourhood is a lovely family oriented community, that is made up of townhomes and detached houses and truly define the Old Milton with its charm. These houses sit on quiet tree lined streets, coffee shops, greenspace and schools. With great access to the Milton Go station, and Highway 401, Dorset Park is surrounded by the main streets of Main Street, Thompson Rd, and Woodward Ave.
Search all homes for sale in Dorset Park Milton on my property search website here
What is Dorset Park Milton Neighbourhood Like?
Doreset Park is considered to be (at least partially) in the district for close to 50 schools. This is one of the reasons that this community is so popular among families. In addition to many schools, there are also many parks, shopping, banks, arena, baseball diamonds and lots of green space.
What are the Houses Like?
Until the 1950's Dorset Park Milton was filled with nature and green space. It was not until the 1950's that houses began to develop in this area. Today, Dorset Park is primarily made up of beautiful and up-to-date condominiums, townhouses, as well as large detached family homes.
Condominiums

These Start Around $380,000
These homes are great options for professionals and young families. These condominiums provide maintenance free living, in addition to the wonderful location of these homes, the buildings often come with additional amenities such as rooftop patios, pools and workout areas.
Townhouses

These Start Around $400,000
The townhouses in this area are beautiful. They offer tonnes of curb appeal, decent size lots, and great size rooms. These houses provide fantastic options for young families, and first time home buyers.
Detached Homes

These Start Around $480,000
The detached houses found in Dorset Park, sit on great size lots, and along quiet tree lined streets. These houses vary in style from classic 2 story family home to split level bungalow and ranch styles. In addition to all of this, the houses in Dorset Park are large, the range from 3-5 bedrooms, and many come with attached garages. Large windows, high ceilings and tonnes of curb appeal make these houses fast sells.
What are the Schools Like?
Like many neighbourhoods in Milton, Dorset Park actually falls into the district of more schools than a lot of other places. Dorset Park is currently partly in the district of close to 50 schools. Some of these include: Dorset Park Public School, Daar Us Sunnah Academy, St. Lawrence Catholic School, and Milton Public School.
In the next few years, Milton will also be welcoming a new campus of Laurier University. This will greatly increase the population of this beautiful town, and increase the appeal for investors.
More articles on Milton Neighbourhoods